It' has been ages since I made cupcakes. I have mentioned before that Mr Birdie likes to joke that cupcakes are all I make – well hopefully this blog has proved him wrong! I made these once before and Mr Birdie declared them 'the best cupcakes I'd ever made'! I decided to make these as I had a couple of Bramley apples that needed using up.
These cupcakes are a combination of recipes – the cupcake recipe is from Eric Lanlard's Cox, Cookies & Cake book and the cream cheese frosting and crumble topping come from the Cup O' Sugar blog. If I had had lots of time I would have filled them with custard as my Dad gave me a cupcake filler gadget for Christmas that I am still waiting to try out but sadly time flew by today. I made 18 cupcakes from the mixture but this will probably depend on how much apple mixture you make.

Ingredients:
For the cupcakes:
2 cooking apples (peeled, cored and chopped – you may want to use 3 to ensure you have enough)
1 teaspoon ground cinnamon
1/2 teaspoon bicarbonate of soda
100g butter (softened)
200g soft brown sugar
2 eggs
350g self-raising flour
For the cream cheese frosting:
4 tablespoons butter (60g)
4 cups icing sugar
1/4 teaspoon vanilla extract
6oz cream cheese (approx. 1 packet)
2 teaspoons ground cinnamon

For the crumble topping:
55g plain flour
55g rolled oats
Pinch of cinnamon
55g butter
40g soft light brown sugar
Method:
1) Preheat your oven to 200C/180C Fan/Gas 6 and line a cupcake tin with paper cases.
2) Put the apples in a saucepan with the cinnamon and cook over a gentle heat until mushy. (This will take a long time – the first time I made these I added some water but didn't this time. You will need to keep stirring it regularly to make sure the mixture doesn't catch on the bottom of the saucepan. The original recipe says to strain the mixture after it's cooked and to then weigh out 250g but I only had 100g without straining it which is why you might want to try 3 apples instead.)
3) In a bowl, mix the bicarbonate of soda into the apples.
4) In a separate large bowl, cream the butter and sugar together. Once these are combined add the eggs.
5) Alternately fold the self-raising flour and apple mixture into the butter mixture and mix well (the mixture will be quite thick – although it may be looser if you use the correct amount of apple.)
6) Divide between the paper cases and bake for 20-25 minutes until the cupcakes are golden brown and a skewer inserted into the centre of a cupcake comes out clean (mine took 20 minutes.) Leave them to cool in the tins for 5 minutes before transferring to a wire rack to cool completely.
7) Once the cupcakes have cooled make the cream cheese frosting. Place all the ingredients in a bowl and mix with an electric whisk until well-combined. Frost the cupcakes with a knife (you can alternatively use a frosting bag with a nozzle but I think they look better rustic.)
8) To make the crumble topping mix the flour, oats and cinnamon in a bowl. Then add the butter and rub in using your fingertips until all the ingredients come together in a crumble-like consistency. Then add the sugar making sure it is evenly mixed in.
Spread the crumble mix on a paper-lined baking tray and bake in the oven for about 15 minutes until golden brown. You will need to gently stir the mixture to ensure it browns evenly (I checked mine every 5 minutes and found it needed about 20 minutes.) Once the crumbs are golden, remove from the oven and set aside to cool.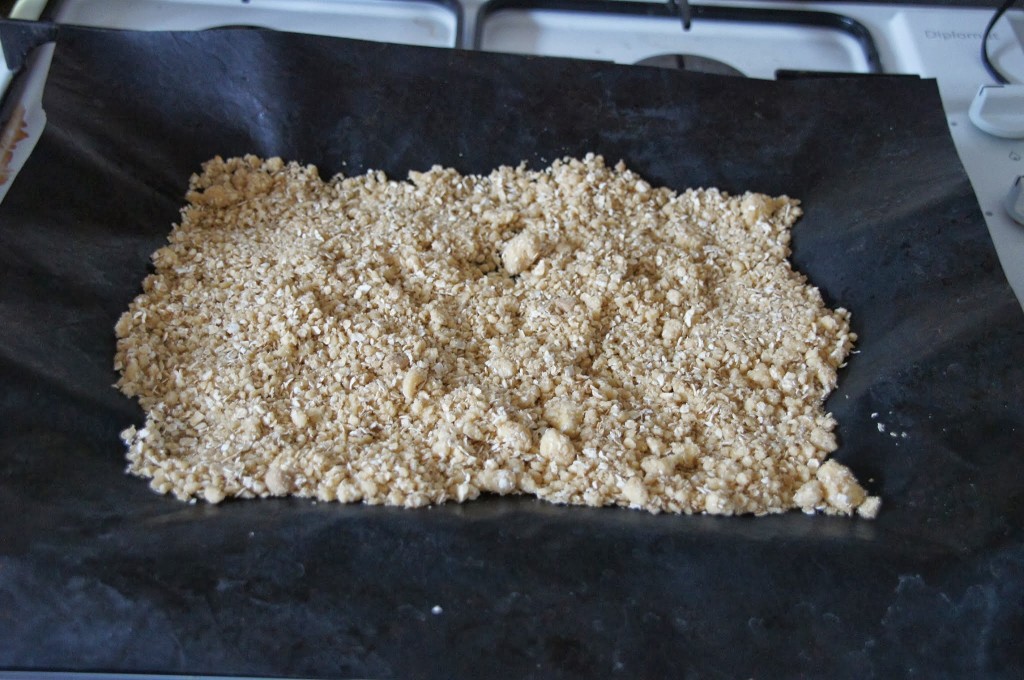 9) To finish the cupcakes sprinkle the crumble topping onto the cream cheese frosting and enjoy (with cream or custard if you're feeling extra indulgent!)