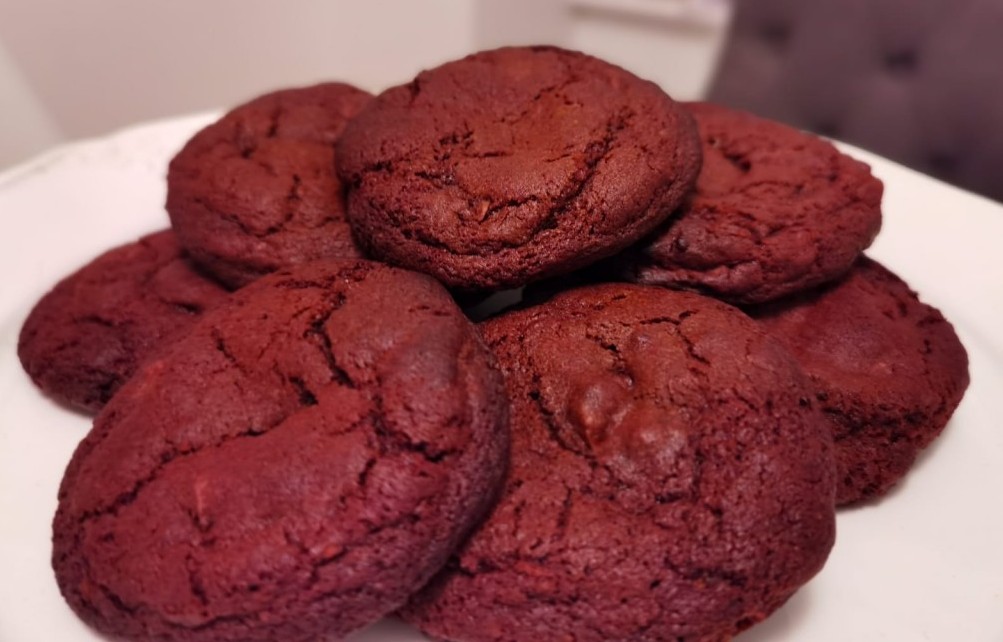 When my twin sidekicks started school last September I had all kinds of plans for how much baking I would do. Whilst there has been baking, there's not been a lot I've had time to document (or that would warrant documenting!) As a New Year's resolution I decided it really was time to try and change that. These were originally meant to be some chocolate orange brownies but I discovered that what I thought was golden caster sugar in the cupboard was actually soft brown sugar so a quick change of plan was needed. I had seen this recipe on Martha Collison's Instagram stories and a quick check of the recipe via the Waitrose website confirmed that I had the ingredients needed.

These produce a chewy cookie rather than a crunchy one. I managed to make 15 medium sized cookies. The dough was made, chilled and baked all in between the school run and dropping and collecting my sidekicks from their ballet lesson as it's a pretty easy dough to make (you don't even need a mixer), but you will need to remember to allow time for the dough to chill (it needs a minimum of 30 minutes). Luckily they have received high praise from my harshest critics – the speed at which they have managed to eat them amazes me! In my opinion they're not overly orangey so you might want to consider upping the orange zest if you want a strong orange flavour (or even adding a dash of orange extract). The cookies will keep for up to 5 days in an airtight container.
Ingredients:
125g butter (softened)
100g light brown soft sugar
75g caster sugar
1 large egg
50g thin-cut Seville orange marmalade
1 orange (finely grated zest)
200g plain flour
50g cocoa powder
1/2 teaspoon bicarbonate of soda
1/2 teaspoon baking powder
100g milk chocolate chips
Method:
1) In a large bowl, beat together the butter with both the sugars using a wooden spoon, until well combined and smooth (there's no need for it to be light and fluffy.)
2) Crack the egg into the mixture and beat again, then stir in the marmalade and orange zest.
3) Tip the flour, cocoa powder, bicarbonate of soda and baking powder into the bowl and fold using a spatula until a stiff dough forms. Stir through the chocolate chips.
4) Cover and refrigerate the dough for at least 30 minutes (or it can stay chilled for up to 72 hours).
5) Once your dough has chilled, preheat your oven to 200ºC, gas mark 6. Line 2 large baking trays with baking parchment.
6) Using a dessert spoon, scoop large balls of dough and roll them with slightly damp hands. Place them onto the trays, leaving enough space for each one to spread out. You should get 12-14 large cookies from this mixture.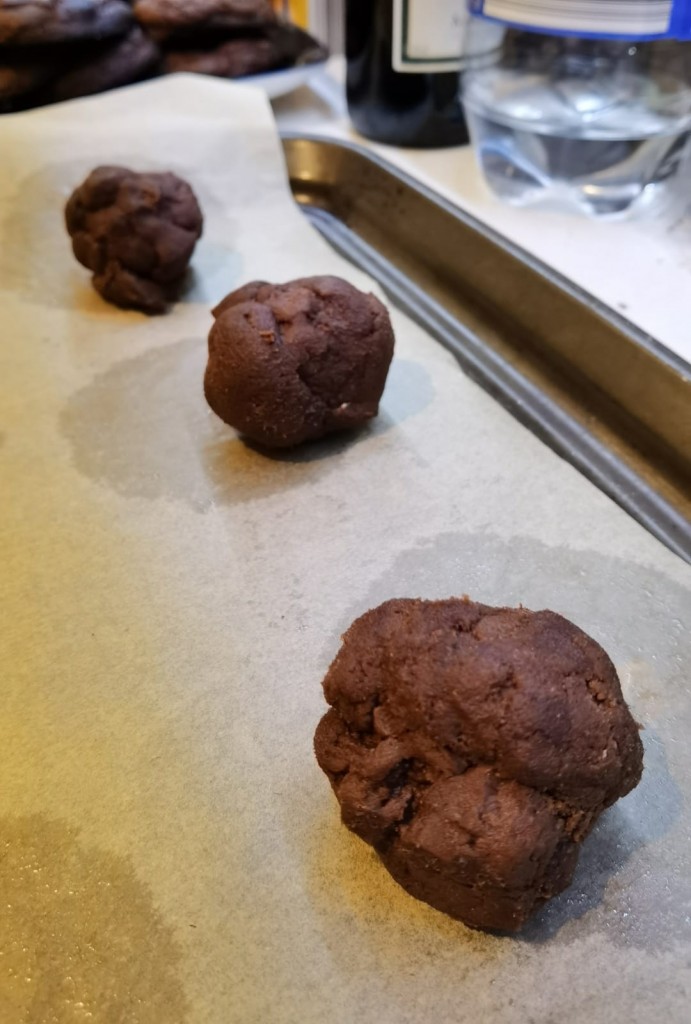 7) Bake for 12-14 minutes, or until the mixture has spread out and is crispy around the edges (take care as I found mind burnt around the edges quite quickly although I may have had the oven a bit too hot). They will look undercooked and puffy in the centre, but this will settle and firm up into a soft, chewy centre. Allow to cool for at least 10 minutes on the tray before enjoying warm. Once cool, these will keep for up to 5 days in an airtight container.