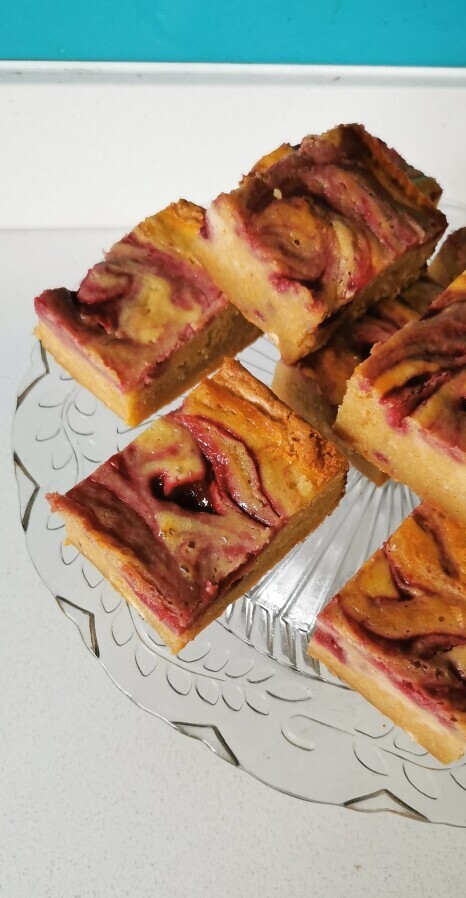 When we moved into our house, we were very lucky to inherit some raspberry canes which touch wood have given us an amazing crop every year. We always seem to be a bit overwhelmed with far too many to eat so I decided some baking was in order. I've made these chocolate raspberry brownies before but decided after the success of my rhubarb and custard blondies that I would try some blondies instead. I had a few recipes saved to my Pinterest page but I decided to try this Sainsbury's Magazine recipe. I was a little worried after reading some of the reviews but actually I was pleasantly surprised with how well they turned out and they were well received by everyone who tried them.

This recipe will make 20-24 blondies depending on how big or small you decide to cut them. You'll need a 20m x 30cm brownie or traybake tin. The blondies keep for 5 days in the fridge (covered), or can be frozen for up to 1 month and are best served at room temperature. I did find that I needed to cook them for slightly longer than the recipe stated but remember to keep a careful eye on them and that they will continue to firm up even after you've taken them out of the oven.
Ingredients:
For the raspberry ripple
100g raspberries
1 tablespoon golden caster sugar
1 teaspoon lemon juice
For the cheesecake swirl
100g full-fat soft cheese
1 tablespoon golden caster sugar
1 tablespoon plain flour
1 medium egg
For the blondies
225g soft unsalted butter, plus extra for greasing
200g soft light brown sugar
100g golden caster sugar
150g white chocolate (chopped into small pieces)
3 medium eggs
1 teaspoon vanilla extract
200g plain flour
1⁄2 teaspoon baking powder
50g raspberries, plus extra to serve
Method:
1) Put the raspberry ripple ingredients (raspberries, golden caster sugar and lemon juice) in a small pan and simmer on a low heat until the raspberries burst and turn into a thick jam (this will take about 8 minutes.) Sieve into a clean bowl, discarding the seeds, and leave to cool.
2) Grease and line a 20cm x 30cm brownie or traybake tin. Preheat the oven to 180°C, fan 160°C, gas 4.
3) Beat the cheesecake swirl ingredients together in a bowl with a whisk until smooth. Set aside at room temperature.
4) For the blondie mixture, put the butter, sugars and 100g of the white chocolate in a pan and melt on a very low heat, continually stirring until the chocolate has melted and the mixture is smooth. Remove from the heat and leave to cool for 10 minutes.
5) Beat the eggs into the cooled mix, one at a time, mixing well each time before adding the next. Add the vanilla extract, then sift in the flour, baking powder and 1⁄4 teaspoon salt, and mix again until smooth. Fold in the remaining white chocolate pieces and the raspberries, then pour into the lined tin.
6) Spoon the cheesecake mixture over the blondie mix in the tin, and swirl randomly into the batter with a dessert spoon. Dollop on teaspoons of the raspberry ripple and swirl again, to marble into the cheesecake.
7) Bake for 30-35 minutes until the edges are crisp and the top is set. Cool completely in the tin before cutting into squares. Serve with more fresh raspberries if you wish.