So last week when it was Shrove Tuesday Mr Birdie bought lemons. I too bought lemons (a lack of communication on my part – oops!) which meant we had a lot of lemons in the house. Luckily Jo Wheatley posted this recipe on her fabulous website 'Jo's Blue Aga' (if you've never checked it out 'd highly recommend having a look). I've said before that I've always had great success with Jo's recipes and I'm happy to say this was the case again. This is a very easy recipe as you simply put all the ingredients in a mixer and mix until combined.

The cake has a dark, crisp crust that contrasts with the moist interior. I found the cake to be not overly lemony – this might be because I used 2 lemons which were on the small side. If you like a really lemony cake I would suggest adding a little more lemon zest to the cake mixture. Speaking of the mixture, don't be alarmed if it appears to be quite runny, it will cook! It does have quite a long time in the oven – if you find that your cake does start to brown a little too quickly cover it with foil until it is completely cooked and a skewer inserted comes out clean.
A note before you start (as I missed this when I made it as I'm terrible at making myself read a recipe before I start) – you need to leave the cake in the oven after baking as this helps to prevent it from sinking. You will need a 2lb cake tin (the original recipe states to just butter and flour however I found it quite tricky to remove my cake from the tin so if making again I would definitely line the tin with some baking parchment.)
Ingredients:
For the cake
200g self-raising flour
250g caster sugar
1 teaspoon baking powder
Zest of 2 lemons
1 tablespoon of fresh lemon juice (reserve the rest for the icing)
3 eggs
1 teaspoon vanilla bean paste or extract
80ml sunflower oil
200ml buttermilk
For the icing
Lemon juice
180g icing sugar
1 tablespoon softened butter (approx. 15 grams)
Method:
1. Preheat the oven to 170˚C. Butter and flour (or line) your 2lb loaf tin.
2. In a stand mixer (or in a large bowl with a handwhisk), whisk together all of the cake ingredients.
3. Pour into your prepared 2lb loaf tin. Bake for 45-55 minutes on the middle shelf of the preheated oven, until well risen and a cocktail stick or skewer inserted into the centre comes out clean. Switch off the oven, open the door and leave to cool in the oven for 15-20 minutes.
4. Turn out and cool completely on a wire rack.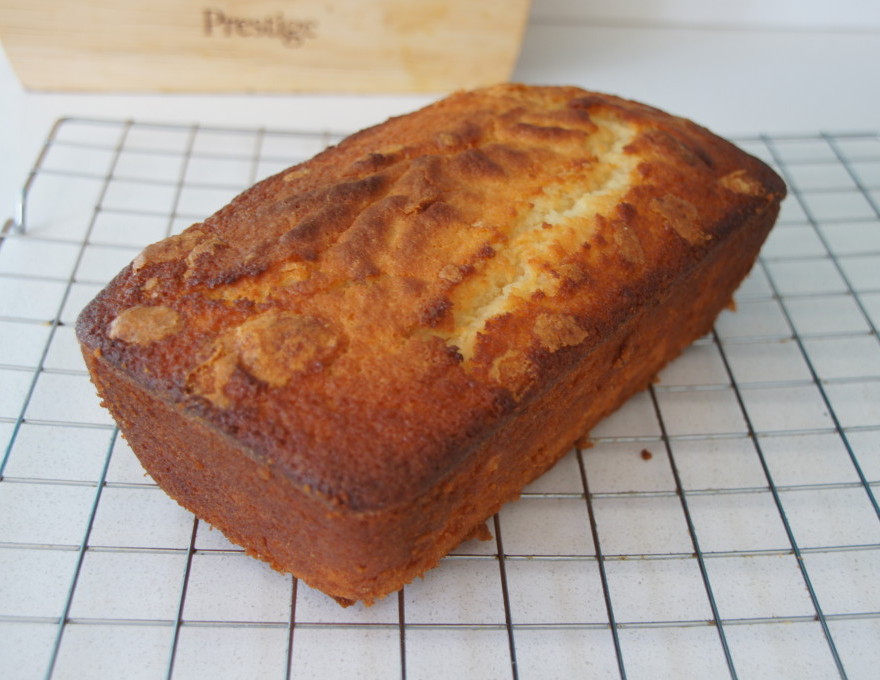 5. To make the icing whisk together the juice of half a lemon, butter and icing sugar until you have a thickish spreadable paste, cover the top and sides of the cake (I found I needed a little more lemon juice to get a spreadable paste – if you need more just add a little at a time).