As promised another cranberry based cookie recipe. These cookies are packed full of Christmas flavour. Cinnamon – check. Cranberries – check. Chocolate – check. I made these last year and they were well received so decided to give them another go. The recipe is from the blog 'What Megan's Making' which I am a fan of. You can find the recipe here. It is an American recipe so you will need some cups for measuring out the ingredients. It also gave me an opportunity to try out my new cookbook stand that I picked up in TK Maxx this week.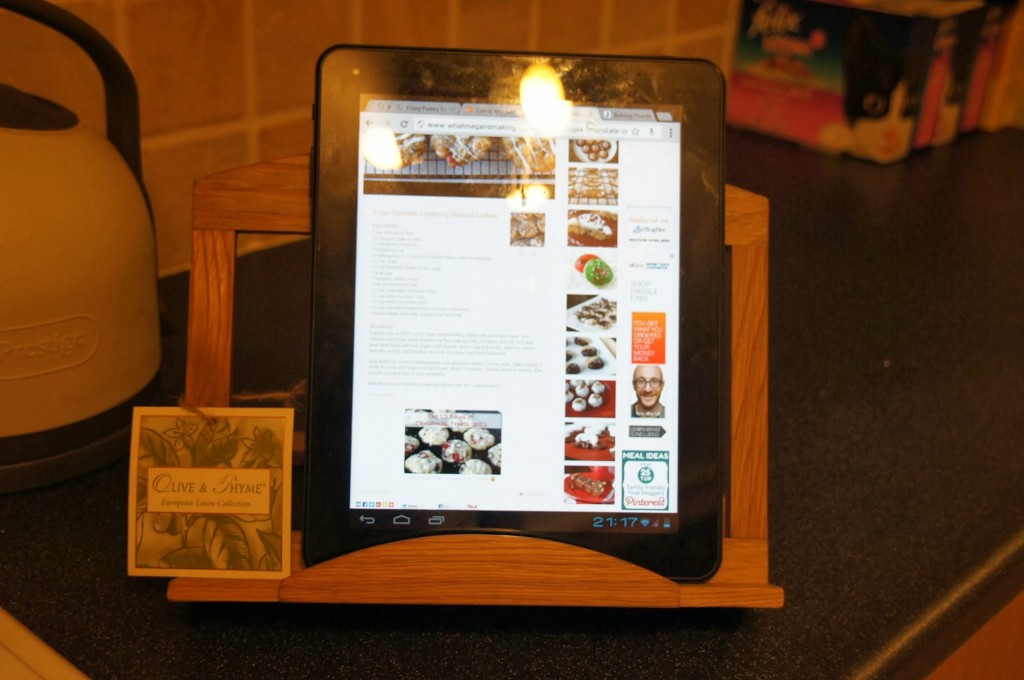 Ingredients:
1 cup plain flour
1/2 teaspoon baking powder
1/2 teaspoon cinnamon
1/4 teaspoon salt
10 tablespoons (approx. 140g) unsalted butter (room temperature)
1/2 sugar (I used golden caster sugar)
1/2 cup (packed) golden brown sugar (I used light brown soft sugar)
1 large egg
1 teaspoon vanilla extract
1 cup oats
1/2 cup dark chocolate chips
1/2 cup milk chocolate chip
1/2 cup white chocolate chip
1/2 cup coarsely chopped fresh or frozen cranberries
2 ounces white chocolate chopped (for drizzling)
Method:
1) Preheat the oven to 180C/350F/Gas 4 and line 2 large baking sheets with parchment paper.
2) In a medium sized bowl mix together the flour, baking powder, cinnamon and salt.
3) In a large bowl beat together the butter and both sugars until smooth. Then beat in the egg and vanilla.
4) Add the flour mixture and oats and stir until blended (This will take some time and is a good work out for your arms!)
5) Stir in the chocolate chips and the cranberries.
6) Drop about a tablespoon of the mixture onto your prepared sheets leaving spaces for the cookies to spread.
7) Bake until the edges are light brown for about 15 minutes.
8) Cool on the baking sheets for 5 minutes before transferring to a wire rack to cool completely.
9) Melt the chopped white chocolate in a bowl over a barely simmering pan of water. Then drizzle the melted white chocolate over the cookies.
10) Enjoy with your favourite festive drink 🙂