On my mission to find banana cake recipes I found this recipe on Pinterest. Personally I think bananas and chocolate are a match made in heaven! I've made a marbled Nutella and banana loaf cake before but not tried making it in cake form. This is another quick and easy recipe to make. It makes a moist cake, however it's not overly chocolatey. It's an American recipe so it uses cups rather than grams which if you don't have you can use a conversion website.

Ingredients: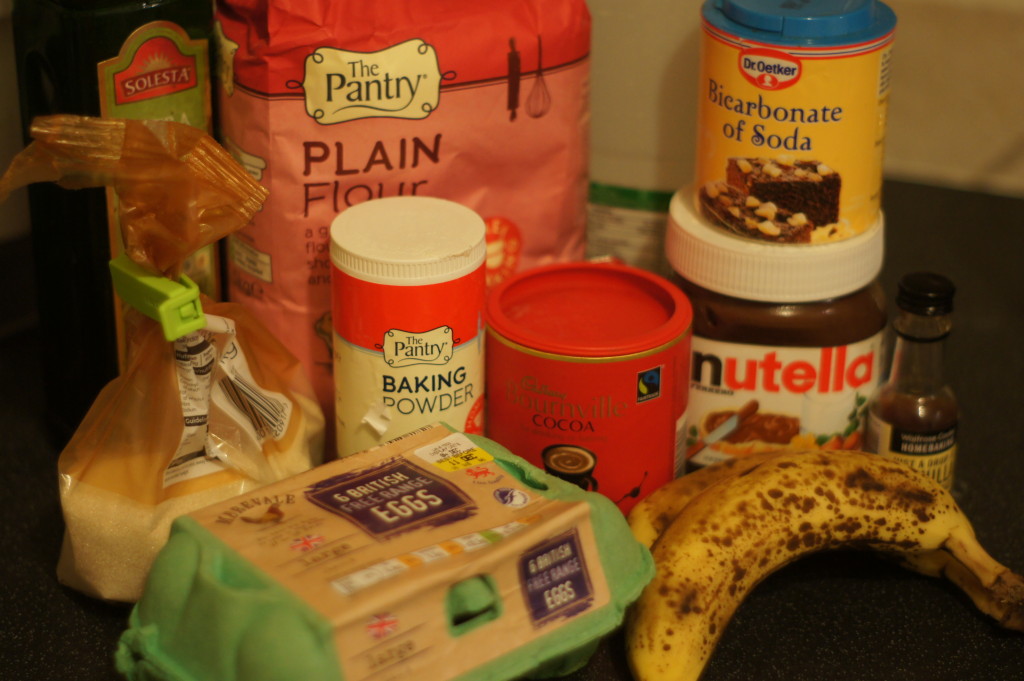 3 eggs
1 cup sugar (I used golden caster sugar)
3/4 cup olive oil
2 ripe bananas
1/2 cup Nutella
2 tablespoons cocoa powder
1 1/4 cup plain flour
1 teaspoon baking powder
1/2 teaspoon bicarbonate of soda
1/8 teaspoon salt
1/2 cup warm water
2 tablespoons milk
1 tablespoon vanilla extract
Method:
1) Pre heat the oven to 190C/350F. Grease and line the base of a 9 inch (23cm) cake tin (I used a springform one).
2) In a bowl, whisk the eggs with the sugar until it's combined to a smooth consistency. Pour in the oil and give it another whisk. Next, add the Nutella and whisk again.
3) In a small bowl, mash the bananas and add it to the egg mixture.
4) In another separate bowl, mix all the dry ingredients together – flour, cocoa powder, baking powder, baking soda and salt.
5) Pour the dry ingredients to the egg mixture little bit at a time and whisk. Once combined, add water, milk and vanilla extract. Whisk again (the mixture will seem very runny but don't worry it will be alright!)
6) Pour the batter into the cake tin and bake it for 50 to 55 minutes until a skewer inserted into the middle of the cake comes out clean.