By some kind of miracle I've managed 2 bakes in the last week – mostly inspired by the stash of blackberries we've gathered on quite a few walks around our local area over the last few weeks. They've mostly come to an end now and I'm glad to have stashed some in the freezer but on Tuesday afternoon when I had 2 toddlers to entertain I was glad of the ones that were lurking in the fridge. I decided we'd give this Sainsbury's Magazine recipe a go. Peanut butter and blackberry is not a combination that I'd initially think of but they do actually work and make a nice alternative to your usual apple and blackberry based autumnal bakes.

This recipe will make 16 very squidgy brownies. You definitely need to make sure you keep them in the fridge post baking (for up to 5 days). I did have a magazine photo versus reality moment when I took mine out of the oven as mine had very definitely lost the swirl effect in the baking process and looked nothing like the magazine photo but luckily what they lacked in appearance they more than made up for in taste. I wonder if next time refrigerating the peanut butter batter mixture might help it stop from spreading so much. You'll need a 20cm square cake tin.
Ingredients:
For the peanut butter batter
100g crunchy peanut butter
75g caster sugar
1 medium egg
For the brownies
150g unsalted butter (plus extra for greasing)
300g caster sugar
250g dark chocolate (ideally at least 70% cocoa solids, chopped)
4 medium eggs
100g plain flour
½ teaspoon fine sea salt
150g sweet blackberries
Method:
1) Preheat your oven to 180°C/fan 160°C/gas 4. Grease and line a 20cm square cake tin.
2) Make the peanut butter batter. Whisk the peanut butter, sugar and egg together in a bowl until combined (it will be quite thick).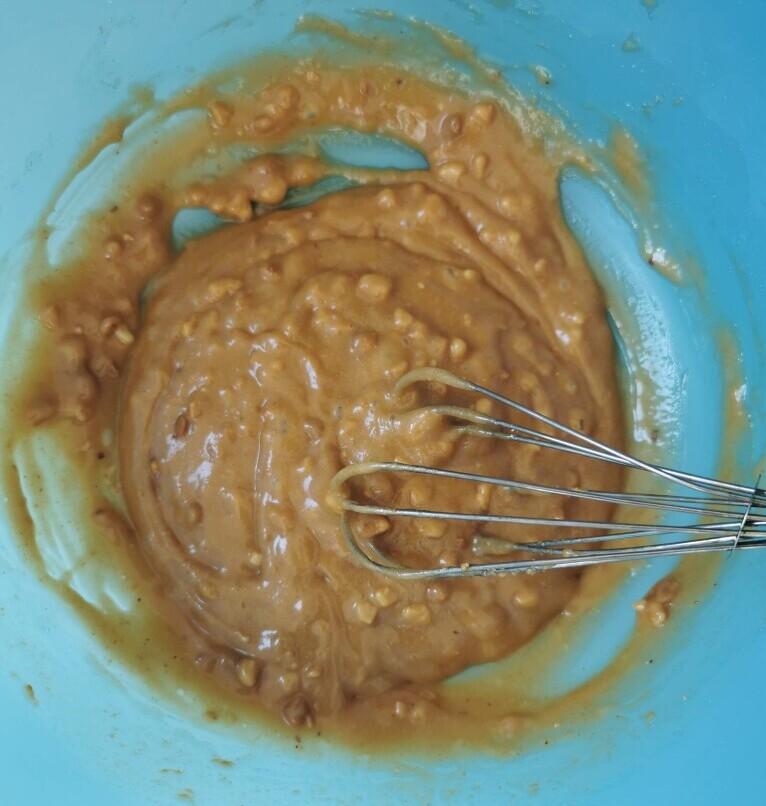 3) For the brownies, put the butter and caster sugar in a saucepan. Cook over a medium low heat, stirring, until melted together and smooth. Remove from the heat and stir in the chopped chocolate until it has melted. Pour into a mixing bowl and cool briefly, then mix in the eggs, one at a time.
4) Add the flour and salt and stir until just combined. Fold in two-thirds of the blackberries, saving the rest for the topping.
5) Put the brownie batter in the tin, then dollop over big spoonfuls of the peanut butter batter. Use a knife or skewer to swirl the peanut and chocolate batters together. Gently push the remaining blackberries into the top of the batter.
6) Bake for 45-50 minutes; the brownies should be slightly squidgy in the centre. Let the brownies cool completely before cutting into squares (chilling them in a fridge, using a sharp knife and wiping the knife between each cut will help with this).