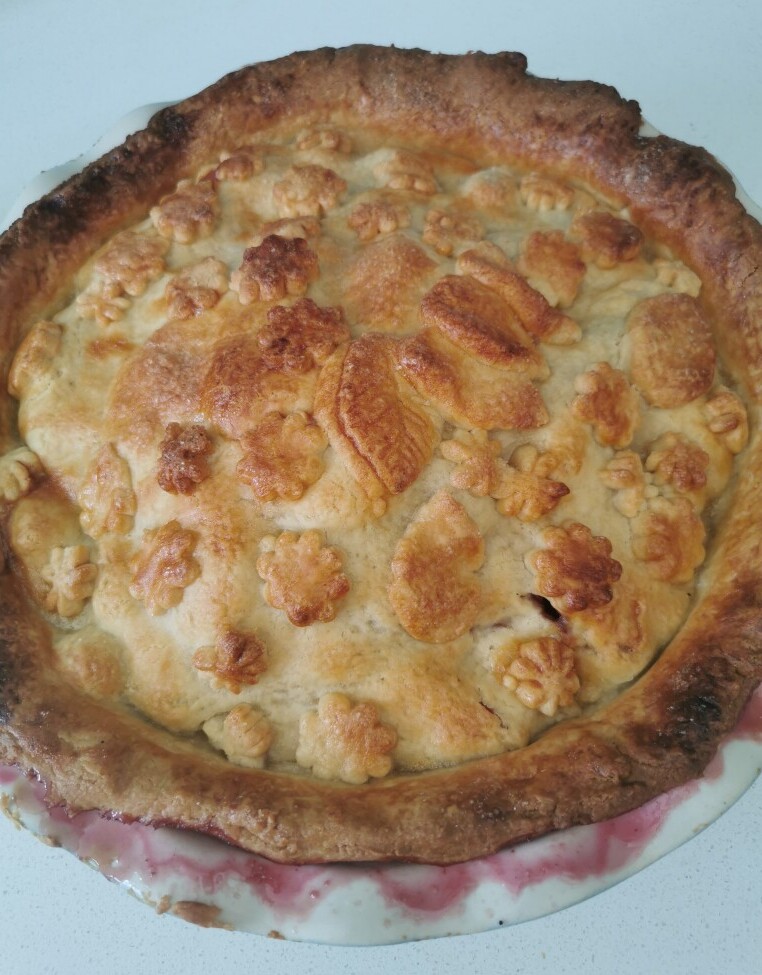 Well autumn has very definitely arrived which means it's definitely blackberry and apple pie weather. My little ladies started preschool a few weeks ago and their weekly learning theme for last week was apples. As parents we were actively encouraged to enjoy some apple based activities so I decided it was a good opportunity to make a blackberry and apple pie so we could look at some Bramley apples and enjoy some baking together. Now I'm normally a crumble rather than a pie girl as pastry scares me however I have to say I was pretty pleased with how this turned out. This is a BBC Good Food recipe.

You can make a variety of sized pies. I chose to make one large pie as that's the only pie dish that I have (apparently a metal or enamel dish is best but I only have a ceramic one) but you can make 2 medium pies or 4 individual pies instead. I found the pastry was pretty forgiving and my little helpers definitely enjoyed using some cutters to create some autumnal shapes to decorate the top with. The pastry does need some time to rest (30 minutes) and the apples need 30 minutes to macerate so make sure you plan this into your schedule. You can choose to decorate your pie however you choose. This is a handy link to some different decoration ideas.
Ingredients:
For the pastry
225g cold unsalted butter (chopped into small pieces)
350g plain flour
50g icing sugar
1 large egg yolk (save the white for brushing the pastry)
For the filling
900g Bramley apple (about 4 peeled, cored, quartered and thinly sliced)
140g golden caster sugar (plus extra for sprinkling)
1 tablespoon fine polenta or ground almonds
1 tablespoon cornflour or plain flour (plus extra for dusting)
1 ½ teaspoons ground cinnamon
200g blackberries (halved if very large)
1 egg white (for brushing, reserved from making the pastry)
Method:
1) Put the butter and flour in a food processor with 1/4 teaspoon salt and blend until the mixture resembles damp breadcrumbs (alternatively you can do this by rubbing the butter and flour together in a big bowl with your fingertips). Add the sugar and briefly whizz again or stir to combine.
2) Whisk the egg yolk with 2 tablespoons cold water, and drizzle over the flour mixture. Use the pulse button to blend the mixture once more, keep going until it starts to form larger clumps. If the mixture seems too dry, add a little more water a teaspoon or 2 at a time, but no more than 3 teaspoons in total.
3) Tip the dough out onto a work surface and briefly knead it to bring it together into a smooth ball. Avoid overworking or it will become tough. Flatten the dough into a puck shape (like a hockey puck) and wrap well in cling film. Chill for at least 30 minutes, or for up to 2 days (or freeze for 2 months).
4) Next, make the filling. Put the apples and half the sugar in a large bowl, then stir together until the apples are well coated. Set aside for 30 minutes to macerate.
5) Remove the pastry dough from the fridge and divide into 2 pieces, one slightly larger than the other. Re-wrap the smaller piece of dough and set aside. Divide the larger piece of dough into the number of pies you'd like to make, or leave whole for a large one. On a lightly floured surface, roll out the dough to the thickness of a 50p piece, or until large enough to line the base of your pie plate or tin, with a little pastry overhanging. Roll the dough over your rolling pin, lift onto your plate or tins, then press it well into the corners. Scatter the polenta or almonds over the base.
6) Drain any juice from the apples, then toss through the remaining sugar, cornflour and cinnamon. Layer the apples and blackberries in the lined dish, creating a dome effect in the centre. Heat oven to 190C/170C fan/gas 5 and place a baking sheet on the middle shelf.
7) Finally choose how you'd like to decorate the top of the pie (see the link above). Once covered, whisk the reserved egg white and brush over the pastry. Scatter with extra sugar, then put the pie on the baking sheet. Bake for 25-30 minutes for mini pies, 35-40 minutes for medium pies, or 45 minutes for a large pie, until the pastry is golden and crisp and the juices are bubbling. Cool for 10 minutes before serving with cream or ice cream.