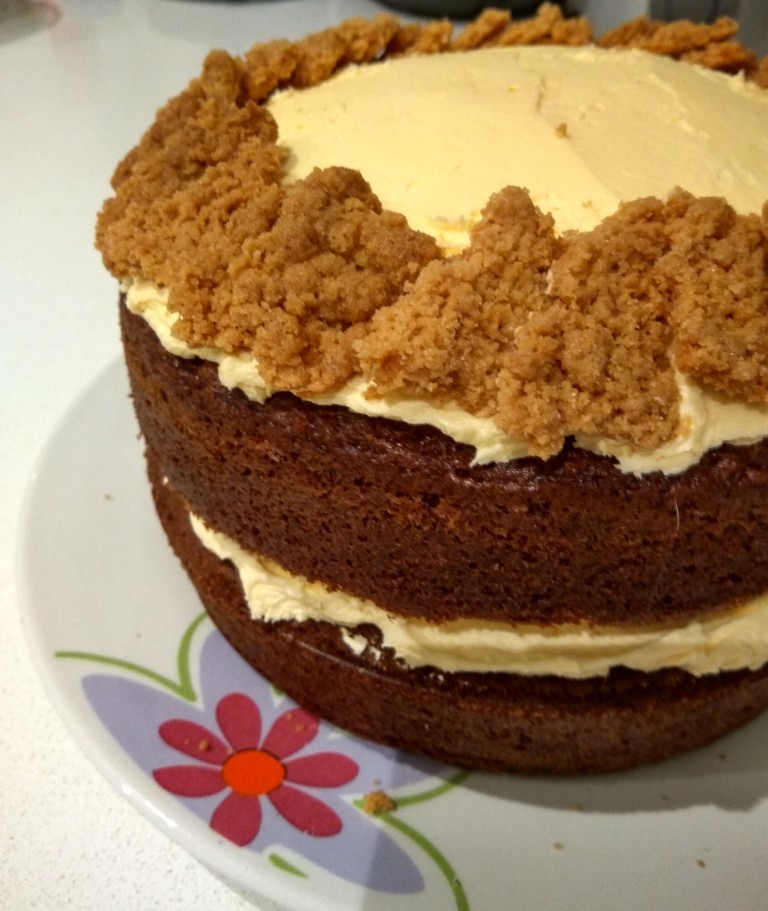 It seems every day is now some sort of named day. Chocolate Day, Carrot Day and Egg Day are all ones I have seen recently. Well, today is no exception and it is Apple Day. Following a bit of research I discovered Apple Day was launched in 1990 by Common Ground and was intended to be both 'a celebration and a demonstration of the variety we are in danger of losing, not simply in apples, but in the richness and diversity of landscape, ecology and culture too.' I made this cake a couple of weeks ago and decided that as it featured apples today would be a good day to finally get round to posting it!

I haven't baked for quite a few months so my colleagues were very pleased to see this arrive on a Monday morning. We have a local cafe in Southsea called The Tenth Hole, who serve legendary cakes and I was thrilled when one of my colleagues compared this cake to something you would find there. After not baking for a few months I was worried I may have lost my touch but luckily this was a but hit both in terms of looks and taste. It is a Holly Bell recipe I saw back in May and decided to save to one of my Pinterest boards for when Autumn came. When I was last at home in Devon I managed to bag some free Bramley apples from one of my Dad's apple trees and I was set. This cake is delicious (even if I do say so myself) and it even got the Mr Birdie seal of approval. The sponge is deliciously moist and the custard buttercream makes an interesting change from your usual plain buttercream. You will need to 2 20cm sandwich tins.
Ingredients:
For the cake:
290mls flavourless oil (e.g. sunflower, groundnut or rapeseed)
300g muscovado sugar (I used light)
285g self raising flour
2 teaspoons bicarbonate of soda
5 large eggs (at room temperature)
350g grated Bramley apple (2 large ones, including skin)
1 teaspoon freshly grated nutmeg (I used dried, ground)
1 teaspoon ground cinnamon
1 teaspoon ground ginger
For the crumble:
60g plain flour
15g ground almonds
50g caster sugar
50g cold butter
For the icing:
200g soft salted butter
400g icing sugar
40g custard powder
35mls milk
Method:
1) Preheat your oven to 180C/160C fan/Gas mark 4. Grease and line 2 x 20cm sandwich tins.
2) Mix all the cake ingredients together with a wooden spoon until there aren't any lumps or traces of egg yolk visible. (Make sure you pay particular attention to the sugar as it can sit in lumps.) Spoon into your tins evenly and bake for 40 minutes until well risen and a toothpick or skewer comes out of the middle of the cakes clean. Cool on a wire rack out of the tins.
3) Make the crumble topping by rubbing all the ingredients together until you have a rubble-like consistency. Spread in a thin layer over a lined baking tray and bake for 25 – 30 minutes at 180C/fan 160C/gas mark 4 until golden brown. (Don't spread it out – you want to keep it together as other wise you won't be able to break it into pieces).
4) Remove the crumble from the oven and leave to cool on a wire rack, still on the tray. Once cool, break up into smaller pieces about 2cm big.
5) Make the custard buttercream by beating the butter until soft and creamy. Add the icing sugar, one tablespoon at a time, beating well after each addition. Then dissolve the custard powder into the milk, stirring until smooth. Add to the icing and beat for 7 minutes at the highest speed (stand mixer or handheld mixer) until the icing is really light and creamy.
6) To decorate the cake use half the icing to sandwich the cake together and then smooth the other half over the top of the cake. Arrange the broken crumble pieces around the outside of the cake and sprinkle the centre with cold crumble mixture and serve.