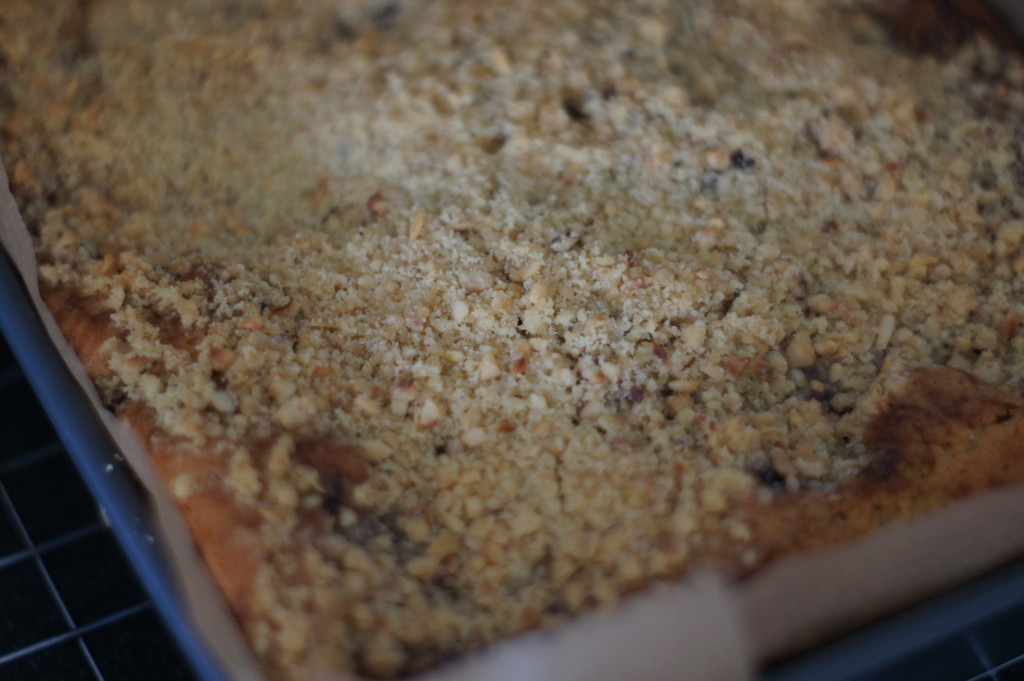 I made this a few weeks ago back in August when it was feeling decidely autumnal as there was a chill in the air and the sun seemed to have disappeared. This is one of my favourite times of year as it's blackberry season. Last year I made blackberry and apple crumble muffins, a blackberry and apple crumble and a mixed berry plaited pie using blackberries and I intend on making quite a few blackberry based recipes again this year. A really good tip I read recently for when you're out and about collecting blackberries is to take an empty milk bottle with you to collect them as this has a handle which is useful for carrying if you're picking when you're on a walk. I'll definitely be trying this out this weekend!

This is a Jo Wheatley recipe that she recently posted on her blog. It combines fruit, sponge and a crumble topping and received a big thumbs up from my colleagues at work today. I think it gets better with time as it becomes moister. You could easily serve this warm as a dessert with some cream or custard but it also works just as well as an accompaniment to a cup of tea or coffee.
The fruit needs to be prepared well beforehand as it needs to completely chill in the fridge before using it. You will need a 22 x 28cm baking tin.
Ingredients:
Fruit layer
2 dessert apples (peeled, cored and sliced)
250g blackberries
100g blueberries
4 tablespoons caster sugar
1 vanilla pod
Crumble topping
50g unsalted butter
100g plain flour
50g chopped hazelnuts
40g Demerara sugar
Sponge
320g Stork (or other similar baking spread – I used Aldi's equivalent)
270g caster sugar
320g self-raising flour
5 eggs
Method:
1) Several hours before starting to bake the cake, place the fruits and caster sugar into a pan with a splash of water, reserving about 15 blackberries. Cook over a medium heat for about 10 minutes, take off of the heat and add the vanilla pod and the reserved berries. Leave to cool then pop into the fridge to chill completely.
2) Once your ready to start the rest of the cake grease and line a 22 x 28cm tin. Preheat the oven to 170ºC/325ºF/Gas 3.
3) Tip all of the cake ingredients into the bowl of a free-standing machine and beat until smooth (If you don't have a free-standing machine, you can use an electric hand-held mixer).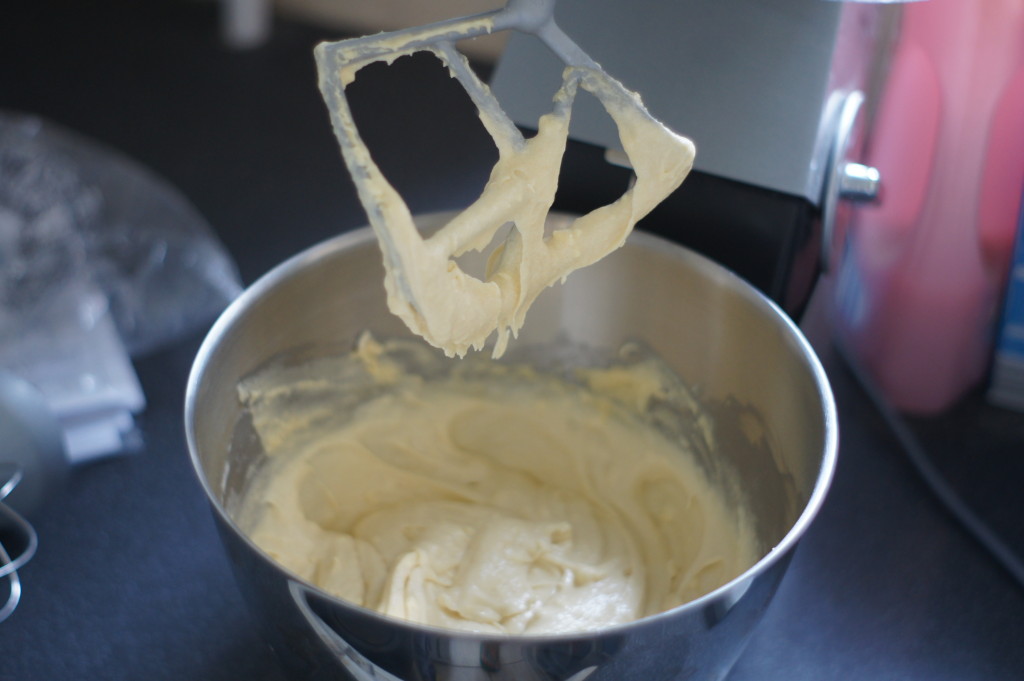 4) Pour the cake batter into the prepared tin and spread level using a palette knife. With a slotted spoon swirl the cooled stewed fruits onto the cake batter making sure to remove the vanilla pod and reserve the fruit syrup.
5) Next rub together the crumble topping ingredients and scatter over the fruits.
6) Bake on the middle shelf of the preheated oven for about 60 minutes or until well risen, golden and when a skewer inserted into the middle of the cake comes out clean (mine needed a couple more minutes).
7) Serve warm with the reserved fruit syrup and custard, cream or ice-cream or all 3 if you're feeling really decadent!